Update-Photographs of Chiefs
March 17, 2015

Category:

Press Releases
Date and Time of Release: 17 March 2015
Subject: Update-Photographs of Chiefs
________________________________________________________________________
The Sonora Police Department has received numerous calls regarding our quest to locate photographs of past Chiefs of the Department. Unfortunately, a lot of the calls have lead to dead ends. However, two calls were very exciting and successful.
The first successful call came from Misty Wilson who represents the Marquette family. The Marquette family loaned us photographs of Chief William Johnson, who was Chief from 1928-1934. Chief Johnson was the first official Chief after the California State Legislator changed the title of Town Marsh to Chief of Police. The photographs depicted Chief Johnson proudly wearing his uniform.
The Marquette family also made the extremely generous donation of Chief Johnson's hat, which is possibly the same one he is wearing in the photographs. The hat will be displayed in our historical display case in our lobby. Along with the hat, the Marquette family donated the leather rain cover for the hat. This was an overwhelming gift from the Marquette family to help Chief Johnson's legacy live on as the first official Chief of Police for the City of Sonora.
The second call came from Mr. Leon Craves, who is the great nephew of Chief Charles Hale. Chief Hale served as Chief from 1934-1939. Mr. Craves remembered traveling to Sonora to visit his great uncle "Charley" during the soapbox derby races on Washington Street and eating lunch with him at the Sonora Inn. Chief Hale owned an appliance business in Sonora, then later, one in Angel's Camp. He also co-owned Ford Motor Company in Turlock, where he is buried. Mr. Craves was able to direct us to an online photo of Chief Hale, which we were able to obtain to add to our display.
The Sonora Police Department is grateful for the generous donation and information from Misty Wilson, the Marquette family, and Mr. Leon Craves.
We have received several calls regarding possible photographs of both Chief Walker and Chief Gorman, but to date, they have not resulted in us locating any photographs. If you have photographs or information on the possible location of photographs of any of the below listed Chiefs, please call the Sonora Police Department at 532-8141.
W.H. Dennis 1910-1920 (Cirea)
Dewey Walker 1959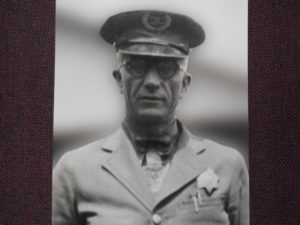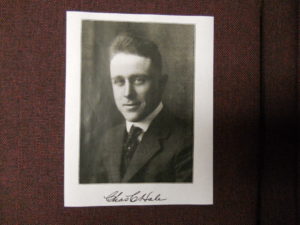 Delbert Gorman 1959-1960